Office space in Queen West
Furnished Suites Now Available
Coworking space now available
Virtual office now available
Please note, price estimates of this office may vary by several factors including your move-in date, size of space you need, and length of rental term (e.g. monthly or 1 year)
Rated one of the coolest neighborhoods in the world by Vogue Magazine, Queen Street West is Toronto's artistic hub of urban pop culture and the home of creative workspace at Toronto Queen West. Contemporary and sophisticated, Toronto Queen West fuels innovative thinking in an inspiring and collaborative work environment. It's the perfect place to create a unique identity in Toronto's most in-demand market alongside tech powerhouses like Twitter and EBay.
***Month To Month Pricing Available or Significant Savings On Longer Lease Terms (e.g. 6, 12, 24, 36 months)***

Housed in a five-story brick and beam retail office building on the iconic John Street corridor, Toronto Queen West is formerly the home of one of the city's most treasured businesses, Urbane Cyclist. With its new persona, ambitious professionals can tap into the historic culture and artistic energy John Street exudes. Start your day with coffee on the rooftop patio. Take a break and peruse hundreds of art galleries nearby. Enjoy the ambiance and cuisine at acclaimed restaurants and eclectic cafes all steps away along the top retail and entertainment strip in downtown.
Some businesses do better with their own office space. Somewhere you can post your plans for world domination away from prying eyes.
No matter if you need a few square metres or a few hundred square metres, we can provide you with a perfectly sized environment for you and your team. Set it up the way that works for you and settle in knowing you can access your secure space 24/7 – with full access to the Business Club. And because we know how quickly business can change, there are no long term contracts and our terms remain flexible and tailored to your specific needs.
Pick a spot in the business club, a beautifully designed workspace created to facilitate new connections.
Whether you're mind-mapping, meeting, collaborating or crunching numbers, the designer desks, tables, sofas, super-fast wifi and informal meeting areas provide the perfect place for every business need. So even if you want a quiet desk Monday to finalize the details of your plan, a large table Tuesday to coordinate with your team, a lunch table Wednesday to meet a new client, and a cozy coffee corner the rest of the week to vet potential candidates — We have all the spaces you'll need, available 24 hours a day.
Planning an off-site meeting, mind-mapping session or seminar? We have what you need.
Book one of the meeting rooms designed to keep your team or your clients comfortable, creative and focused, and the staff will ensure you have everything you need. From audiovisual equipment and whiteboards to food and beverage service – we've got you covered. We know that sometimes getting out of your everyday environment is just what people need to get their creative juices flowing, meeting rooms are open to members and non-members.
Facilities Include:
Parking

Videoconferencing studio

Outside Seating Area / Terrace

City/Town Centre
FURNISHED PART TIME OFFICES WITH RECEPTION SERVICES
Part time, fully furnished, flexible private day offices from only $249 a month!
Suites from ~65 square feet up to 5,000+ square feet of office space, subject to availability.
SMALL OFFICE SOLUTIONS
Small office options available from under $600 per month and up, while inventory lasts.
DEDICATED COWORKING & HOT DESKS
Dedicated Co-working Desks options available from under $500, part time flex options under $300
VIRTUAL OFFICE SOLUTIONS
Virtual Offices (e.g. business mailing address) from under $100.
BUSINESS LOUNGE SOLUTIONS
Do you prefer to simply sit, work and GSD? Are you frustrated using coffee shop WIFI along with all the distractions that come with it? Business Lounge Access options also available from under $4 per day. That's less than a latte a day!
INCLUDED GLOBAL ACCESS
Not only do all flexible workspace options include access to all business centers in your city and province, but also a larger network of facilities spanning across the WORLD with many benefits and locations growing everyday.


Call today for more unlisted offices (private and coworking) of varying sizes and configurations. Call 416.613.9681 or 1.866.481.2327 with any question or for further details.
When you Move in, you'll get everything you need to work - all in one place, on the same bill.
Everything's ready, from super-fast wifi to stylish furniture. Not to mention a community of creative entrepreneurs who'd love to meet you. We'll take care of the dull stuff like utilities and cleaning – all included in one simple price. Then when you want to hold a meeting, fire on some photocopies, or refuel with a cup of coffee, you simply pay as you go. So you always know where you stand. The only surprise is who you're standing next to.
INCLUSIVE SERVICES:
Phone

Voice Mail

Internet

Business Grade Wifi

Utilities

Mail handling

Furnishings

Community Meeting Room Access and basic reception services with a line-up of consumable offerings as well!
Your office should grow with your business! This flexibility allows you to upgrade your office to a larger suite through-out any of the terms with just 30-90 days-notice!
Queen West Business Center
180 John Street, Toronto, Ontario, M5T 1X5
Sales: 1.416.613.9681 | 1.866.481.2327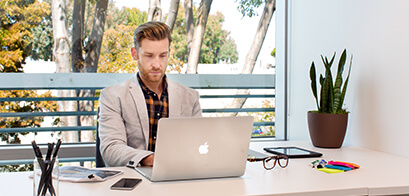 A private office space with a view, available in all the centres.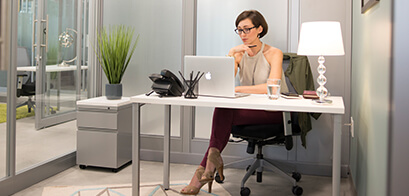 A regular business center office, minus the view; the lowest cost office space.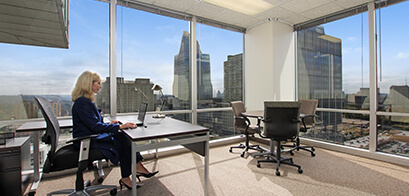 An office and meeting room combined; typically contains two desks and a meeting table.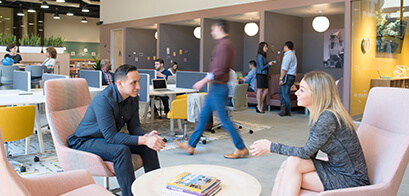 Desk space in a shared office environment, with a hot desking policy that is first come, first served.